Fall is the best time to plant.. I know it doesn't seem like the most likely time to get out and garden, but the cooler weather and damper air in the Northwest makes for the perfect time to plant, especially trees and shrubs. An added benefit of this time of year is that most growers are able to dig the larger specimens when the cooler weather comes on, making for more available variety and larger sizes for your yard. During the summer months its too hot and dry for most growers to dig plant materials so that gorgeous shade tree you wanted in August just wasn't available, but it is NOW!
The range of trees and shrubs is at its highest point and with the gorgeous fall colors coming on now is the time the plant!
Here are just a few of the best fall color trees and shrubs for our area.
Pink flowering Dogwood. This tree has gorgeous large bright pink flowers in the spring accompanied by bright lime green foliage which turns to a showy Russet orange in the fall. Excellent for shade these trees do very well in our climate and are inexpensive as well as staying a nice size for the garden.
Euonymus or Burning bush is a lovely shrub that can be planted as a specimen plant, in groupings or as thick deciduous hedge.
They can be trimmed into shapes or let go for a free flowing natural look. They have a bright green leaf in the spring with bright red berries with the leaves turning to a deep red and then finally an almost Hot pink making them appear to be 'on fire' thus the name burning bush. They perform excellently in the Northwest's cooler wetter climates and are very manageable in our landscapes.
Ginko Biloba or Maiden hair tree is another plant tree for excellent fall color. The Ginko has spectacular golden fall color and interest leaf different from any other tree type.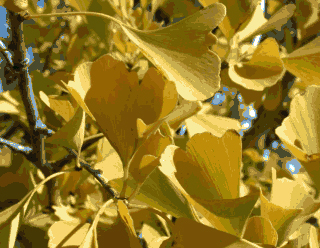 They do well in our area and aren't all that prevalent so they make for a unique and interesting addition to the landscape.
Liquidambar styraciflua or American Sweet gum is THE premiere choice for fall color. Often seen as street tree the sweet Gum has amazingly vibrant and varied fall color. Ranging from bright orange to red to an almost glowing pink the sweet gum is perfect for the garden.
Maples come in a HUGE variety of sizes colors and forms, all with their own unique aspects to recommend them, this tree though is THE most spectacular of the maples for fall color. The Acer Palmatum 'Sango Kaku' or Coral bark Maple is a deciduous tree native to Japan that is fairly small in stature, growing to a maximum height of 20 feet over a very long period of time. The palm like leaves give this tree a lacey airy look but the most spectacular aspect of this tree is the bark which in young specimens is bright reddish coral color giving it it's name of 'Coral bark' maple. All of the new growth throughout the trees life with present as bright red color giving the tree interest in every season. But the best season for this tree is by far and away fall. All of the fall colors are represented in this one tree, from Bright glowing yellows to oranges and radiant reds and pinks this tree encompasses everything we love about fall. Used mostly as a specimen tree this tree can also be planted en mass to create a spectacular display of natures best!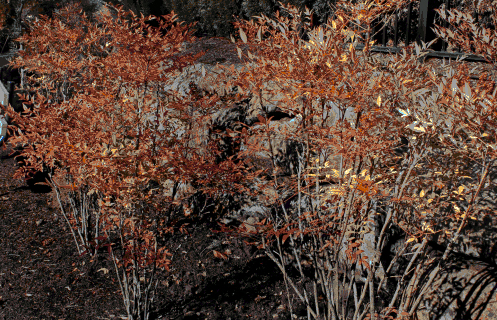 Nandina Domesica also known as Heavenly bamboo or just Nandia is a shrub that is used often here in the Northwest. With its bamboo like leaves and low slow growing habit these plants are often used as a hedge or planted in groupings of three or more. When used against evergreens and with accent boulders these shrubs really put on a s how of fall color! With bright red berries and colors ranging from dark green to gold, to Bright red Nandina is one of the Northwest's best!