The Pacific NW has really seen a boom in the sought-after fire pits and fire places trend in the last few years. Who doesn't like the ambiance of a warm crackling fire, in your own back yard!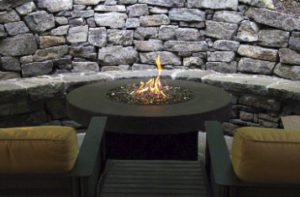 At Exstream Landscaping we offer the casual atmosphere of a fire pit; reminiscent of camp fires, roasted marshmallows and glowing faces or the more formal look and feel of a fire place.
Fire pits create a more social atmosphere allowing for seating around a full 360 degrees. Paired with a seating wall and pergola this would create the maximum allowable social atmosphere. Fire pits also typically cost significantly less money as they don't have a need for additional structures like a chimney.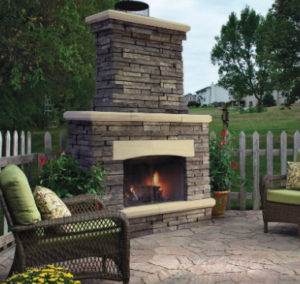 Fire places only face one way and aren't portable so they offer a less social atmosphere but do offer a more cozy, intimate and romantic feel. When paired with an outdoor kitchen and housing a pizza oven, fireplaces can really add to both the look and functionality of your outdoor environment in a way that a fire pit cannot.
Here in the NW we have an abundance of natural raw materials from which to build. From indigenous slate and Flagstone to Basalt other local stones we can create a natural look for your outdoor oasis. If it's a more formal look your heart desires you can choose from a plethora of man made materials. Belgard products as well as Western Interlock offer a whole host of beautiful products for you to choose from!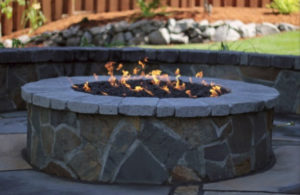 You can also choose wood burning or gas for your fire pit or fire place. Gas is easy, convenient and environmentally friendly. If available in your area. If you don't have gas availability then log or wood burning will be a significantly less expensive option.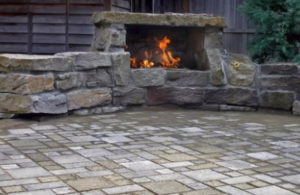 Whatever you choose, Exstream Landscaping can help create the landscape of your dreams just give us a call at 503-654- 1953 and let's get starting on your outdoor environment TODAY!