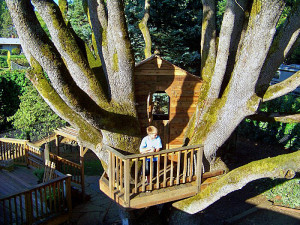 The best Portland landscapes begin with imagination. If you can dream it, Exstream Landscaping can build it…this includes the kids too! So whether it's fighting pirates on the high seas, keeping watch over the yard for invading lions and tigers and bears (oh my!), setting up a boys or girls ONLY clubhouse for some wicked games of checkers or just gazing at the stars on a warm summer's night, a tree house is the perfect addition to your yard for fueling any child's imagination.
We build Treehouses for safety, we build them for fun and we build them with little or no impact to the tree! We can also build them for budget-minded parents, grandparents and aunts and uncles.
Call us today for a free consulation. We'd love to hear your ideas…and your child's!